This is a question that can be asked anywhere in the world, but which is all the more valid in Thailand properties for sale. Indeed, among the factors to be taken into account to make a choice, some are universal and others more specific to the country. Here we take a look at the differences between these types of housing to find the one that suits you.
House or appartement : proximity vs space
A fairly universal criterion, the flat may be associated with the notion of city centre and the house with that of periphery, at least in the case of cities of a certain size and level of modernity. This is perfectly true for villas and condos for sale in Thailand.
Real estate in Bangkok
Particularly in Bangkok, if you're looking for modern, centrally located accommodation, close to transport and at a "reasonable" price (the rare villas are exceptional properties with prices in the millions of euros), a condominium flat is the place to go. The entry ticket for a F2 will usually be around €100,000 (indicative order of magnitude), it will be smaller in new buildings (35 to 40sqm) than in older buildings where you can find F2s of 60 or 70sqm for the same price.
In the 100,000€ price range, you'll find entry-level 2-storey townhouses with living rooms and 2 bedrooms in new buildings. But then you will have to move several kilometres away from the nearest metro station and Bangkok, which implies quite substantial travel times due to the capital's traffic.
Real estate in beach resorts
In seaside resorts such as Pattaya, Phuket or Hua Hin, a flat can mean proximity to the centre, but also to the beaches, as beachfront land is also highly prized and has become too expensive for the development of single-family homes which are also exceptional properties most often exceeding €1 million (unless you go 20 or 30 km away from the urban centres).
As a foreign clientele, one will also notice quite marked differences in the type of products offered from one destination to another, which can weigh on the choice of purchase. In Phuket, for example, one will find flats developed and thought for foreigners with modern kitchens, sufficient surfaces, sunny terraces, beautiful views… And sometimes located slightly behind the beaches, with a surface/price ratio close to that of the villas which have become expensive due to the generalized land pressure on the island. Also, on Phuket, buying a flat is often the best solution for people with a budget of less than 200 000 €.
In contrast, in a seaside resort such as Hua Hin, collective housing development is concentrated on the seafront and targets an almost exclusively Thai market of secondary residents. Prices per square metre have become high and the flats are not adapted to European tastes (low ceilings, very small balconies, small kitchens…). But if you drive only a few kilometres inland, without traffic jams (10 to 15 minutes' drive), you will find houses with double or triple the surface area, with a garden and a swimming pool, for the same price. So, with a budget between €100,000 and €200,000 the vast majority of Europeans will prefer to buy a house than a condo.
In Pattaya, the majority of Europeans prefer to buy a house. Here traffic difficulties and daily commuting times are to be taken into account when choosing a location. Indeed, it is a dynamic city, and many Thai workers and expats commute back and forth from Pattaya to Bangkok throughout the day, making traffic more difficult in the morning and evening.
In both Pattaya and Phuket, there is a range of condos suited to Western tastes. You can also find villas inland at reasonable prices as in Hua Hin, but you should rather count 10 to 15km of distance minimum (against 3 to 10 on Hua Hin) to benefit from a pleasant living environment and beautiful surfaces.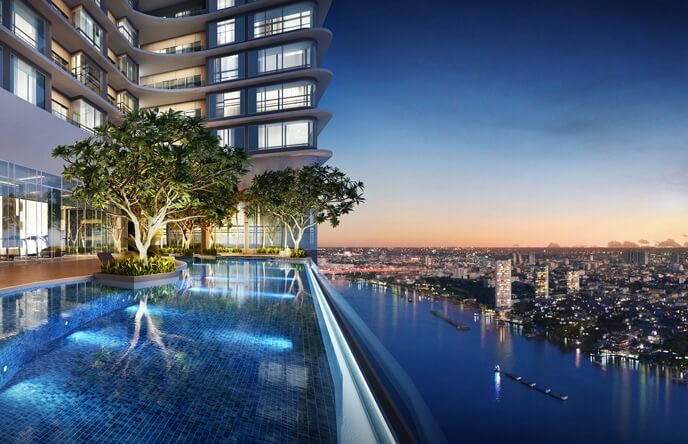 Specificity in Thailand : Freehold vs leashold
A major distinction specific to Thailand for foreigners, is the impossibility of buying a plot of land in one's own name, while it is possible to buy a condo in freehold. Within the limit of 49% of the total area of a building, a property developer is indeed entitled to issue title deeds ("chanote") in the name of foreign buyers.
In the case of buying a house in Thailand, there are alternative solutions to benefit from a secure, transferable and assignable right of occupancy. The most commonly practiced is the registration of a 30-year lease in the name of the foreign buyer at the land registry (who may own the building but may only be a tenant of the land). The drafting of a contract, including renewal, assignment and transfer to a third party clauses by specialist lawyers, will bring this closer to a 'normal' owner status.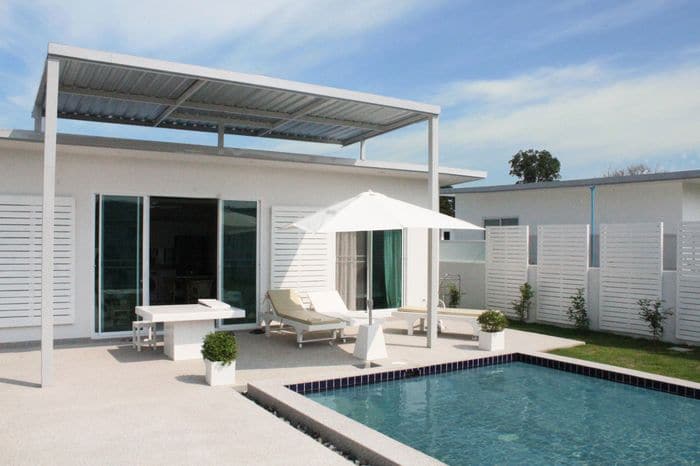 Maintenance and fees
Westerners, in particular, have a habitual reflex of associating the acquisition of a house with a source of worries and much higher expenses than a condo.
In Thailand, it is true that a house with a large garden and a swimming pool will cost more in charges than a flat but with amounts that remain reasonable. And with a comparable living area, if the land is not too big, the charges in a house will be barely higher. For example, you can expect to pay around €100/month in charges for a 100sqm flat in a modern residence with a swimming pool. For a house with the same surface area, on a plot of about 400sqm, you could count on about 150€/month (common parts + garden and pool maintenance).
As for any maintenance or repairs, they will be less of a worry as labour in Thailand is plentiful and cheap. If you need an electrician or a plumber, it will be easy to get someone to come within 24 hours and pay no more than €10 or €20 for the intervention (excluding the possible purchase of materials).
Location, surface area, ownership status as well as price and charges are therefore decisive elements to be taken into account when you have to choose which type of property to invest in in order to find the property that will suit you best.