Are you looking for a place that offers the advantages of a big city, beautiful Buddhist temples, idyllic beaches, a thriving real estate with stunning villas for sale ?  Koh Samui is the ideal place.  Located in the Gulf of Thailand, in the center of a small archipelago of 85 islets (Mu Ko Ang Thong National Park), Koh Samui is recognized as one of the most beautiful islands of Thailand. 
Between white sandy beaches and green mountains, Koh Samui retains its authenticity. The infrastructures and habitations mingle with nature, and the Buddhist temples assert a strong cultural history.
Beaches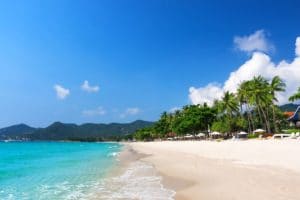 Although there are many fun and exciting things to do in Koh Samui, let's face it, most tourists come to spend relaxing vacations on the beach. Luckily, there are many beach options to choose from, with stretches of white sand bordered by palm trees all around the island. 
Chaweng is the main beach of Koh Samui. Located in the northeast of the island, it is very popular (and relatively crowded) for its breathtaking beauty. 
Lamai beach is the second largest on the island. It is quieter and less lively than Chaweng, but also has many restaurants and beach bars. Although these are the best known and largest beaches, there are many others in Koh Samui.
Other beautiful beaches that you should spend some time on include Lipa Noi, Bang Por and Big Buddha beach.
Nature
If you manage to get out of your deckchair, you should know that there are various activities available in Koh Samui. Indeed, if the coastline has been developed for tourism, a large part of the island remains intact and preserved with miles of jungles to discover during hikes for example. From relatively easy and short paths to more tiring hikes, while strolling, stop to admire the Namuang waterfalls or even swim in this large natural pool to refresh yourself.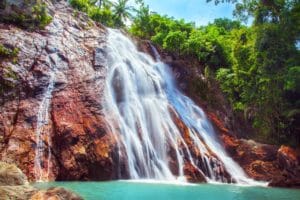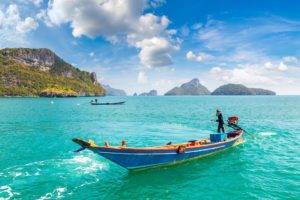 One of the most interesting things to do in Koh Samui is to go on a day trip to the beautiful marine park of Ang Thong. This archipelago consists of 42 pristine islands with towering limestone mountains and postcard-like beaches. Most excursions include a little relaxation on one of the beaches and some snorkeling or kayaking. You'll probably be able to see wildlife on land as well as at sea, including dark lobsters and hawks bill turtles. 
Cultural visits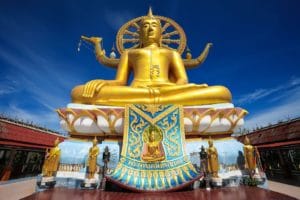 One of the most famous sites in Koh Samui is the Great Buddha. A 12-metre golden Buddha statue, located in the Wat Phra Yai temple, which is on a much smaller island just off the northeast coast of Samui. Because of its location near the airport, it is one of the first things many people see when they fly to the island.
The Secret Buddha Garden is hidden on the heights of Taling Ngam, in the middle of the jungle and durian plantations. It is a magical place which shelters many statues with astonishing shapes, and is one of the must-see places on the island.
Visit also the Muslim village located in Hua Thanon. Built more than 120 years ago, this colorful fishing village attracts many locals and tourists. Finally, Koh Samui is host to many other temples to visit such as Wat Sila Ngu, Wat Plai Laem or Wat Khao Chedi.
These are sacred places, so cover your shoulders and legs to be able to visit them, out of respect for Buddhist traditions or you will not be accepted.
If you plan to explore the country further (and you should), be sure to check out our other articles on what to do in Thailand. And if you decide to move here, don't hesitate to contact Thai Property Group.