Less known than the big seaside resorts of Phuket or Pattaya, Hua Hin is nevertheless very appreciated by Thai people and tourists. The Thai royal family has even made it its regular seaside destination, contributing considerably to its development. In addition to an exceptional quality of life and unique authenticity, Hua Hin today has a flourishing and high-end real estate sector with beautiful villas for sale, as well as attractions combining modernity and tradition.
History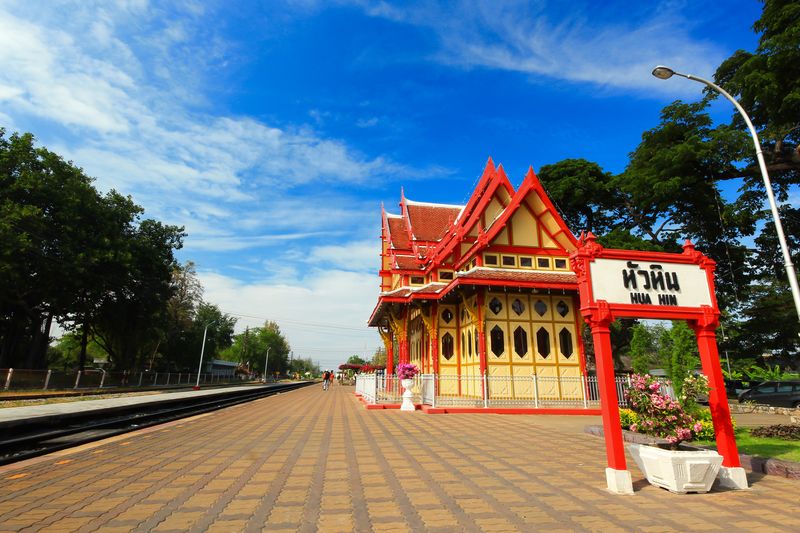 Considered one of the most impressive railway stations in the country, Hua Hin Railway Station is the most famous attraction in Hua Hin.
In a typically Thai architectural style, you will discover wooden buildings in bright colours but also majestic waiting rooms that were once used to welcome the royal family and its court during their excursions. Surrounded by modern buildings and hotels, this historic railway station creates a perfect contrast with its surroundings. 
The Maruekhathaiyawan Palace Cha-Am is a royal palace and the former residence of King Rama VI. This palace offers an astonishing architecture with nearly 16 teak buildings, raised by different pillars and connected by footbridges. This authentic place is located in the heart of the greenery and overlooks a beautiful beach.
Cultural visits
Plearn Wan is the market not to be missed during your visit. It is a "vintage" market that sells everything, but mostly food! It takes its inspiration from the Thai Chinatowns that once occupied Hua Hin and Bangkok. The market exudes an artistic atmosphere with many craft shops that tend to recall the atmosphere of the kingdom in the 50s.


The Huay Mongkol Temple is a Buddhist temple that is a must visit as it houses a gigantic statue of a legendary monk from southern Thailand. This place is very famous among Thai people, and breathes serenity.
Shopping malls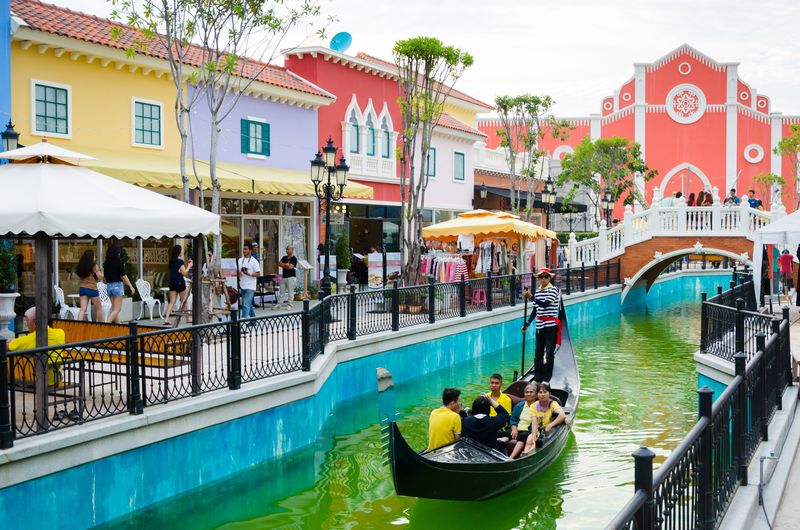 The Seenspace is a very trendy shopping mall located on the waterfront. Here you will find original cafés, restaurants, unique shops and a hotel in an idyllic setting.
With its clean, contemporary architecture and avant-garde decoration, it has become one of the most exclusive places in Hua Hin. 
Another original visit to make if you visit Hua Hin is The Venezia. This shopping center is immersed in a decor that comes straight from Italy, and more particularly from the city of Venice. Here you can take a gondola ride and browse through the many shops. 
Nature
Pranburi Forest Park includes the largest mangrove forest in Thailand. Renowned for its vast and dense forests, it has winding trails that lead visitors to the four corners of the park. In addition to these trails, there are raised boardwalks, which will allow you to admire magnificent landscapes.


Finally, here's a visit you must do ! Classified as a UNESCO World Heritage Site, the Tham Khao Luang Cave is probably one of the most remarkable caves in Thailand. Located about 1 hour from Hua Hin, it boasts a spectacular view with stalactites, a hard scintillating light in the hole of the ceiling, and more than 180 golden statues of Buddha.