Highlighted projects for rare and attractive promotions
To ensure their competitive advantage, large scale Bangkok developers offer special promotions
Solid, "big names" developers of Thailand real estate
Discounts up to 28%
Delivered and fully completed projects
Strategic locations, close to transportation in prime areas of Sukhumvit, Bangkok.
The projects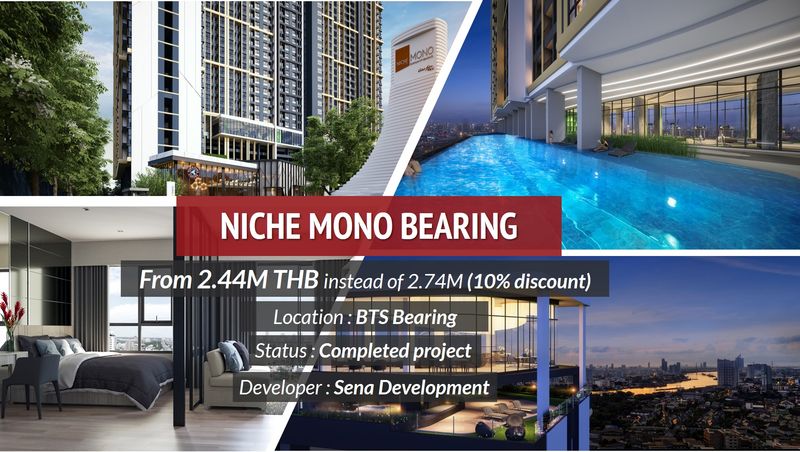 NICHE MONO BEARING
From 2 440 000 THB (-10%)
Only 2 min walk from Bearing BTS station, the project "Niche Mono Bearing" offers an attractive starting price with a discount up to 10%.
The project BONUSes
Furniture Package offered
Electronics offered (TV, fridge, microwave oven, water heater)
Transfer fees offered
Sinking fund offered
1 year maintenance fees offefered
Free meters installation (water and electricity)
Residents can enjoy large common areas and shops. The Niche also displays the biggest Fitness Center of all Bearing, a developping borough which is part of Sulhumvit's extension plan.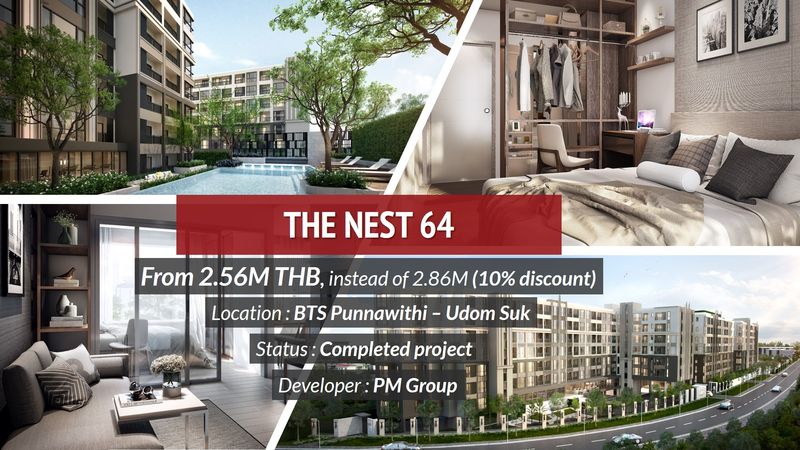 The Nest 64
From 2 560 000 THB (-10%)
Only a 10 min walk from Udom Suk and Punnawithi BTS stations, the Nest 64 is a "low rise", human-sized residence, with a discount up to 10% on a selection of units.
The project BONUSes
Furniture Package offered
Electronics offered (TV, fridge, washing machine)
Close to the "True Digital Park"
The advantage of the project is in its proximity to the recently opened "True Digital Park". This business center will greatly please the young professionnals, with a Start-Up, web and technologic orientation.
The privative settings of the human-sized residence will be valued by families, "millenials" and anyone wanting to work in Bangkok who want to really feel at home.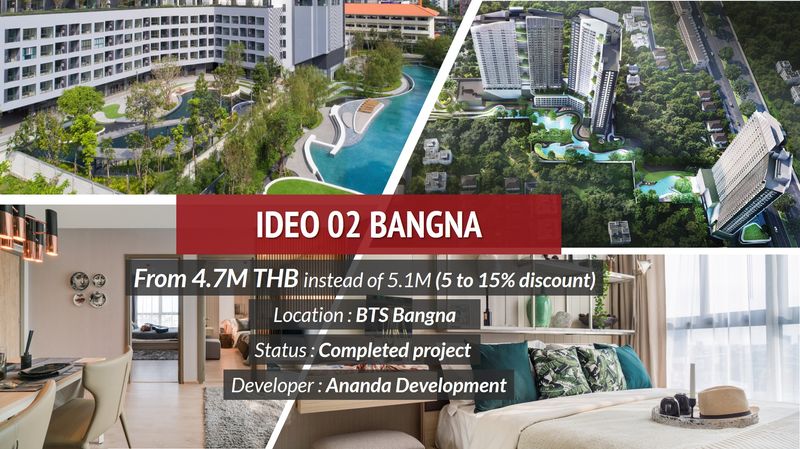 IDEO 02 BANGNA
From 4 700 000 THB (-15%)
2 min walk and just below Bangna BTS, Ideo 02 offers up to 15% discount. Its common spaces are exceptionally large compared to the other residences.
The project BONUSes
Furniture Package offered
Very large common spaces
Many swimming pools and garends, with sports tracks and recreational areas
A football field in the residence
This residence will highly please the sports lovers with its outdoor facilities. Ideo 02 is a breath of fresh air with its gardens, swimming pools, running and bicycle tracks. Common spaces even include a football field.
Concening the location, residents are close to the "Bangna Express Way" as well as the BTS, literally at the doors of the project.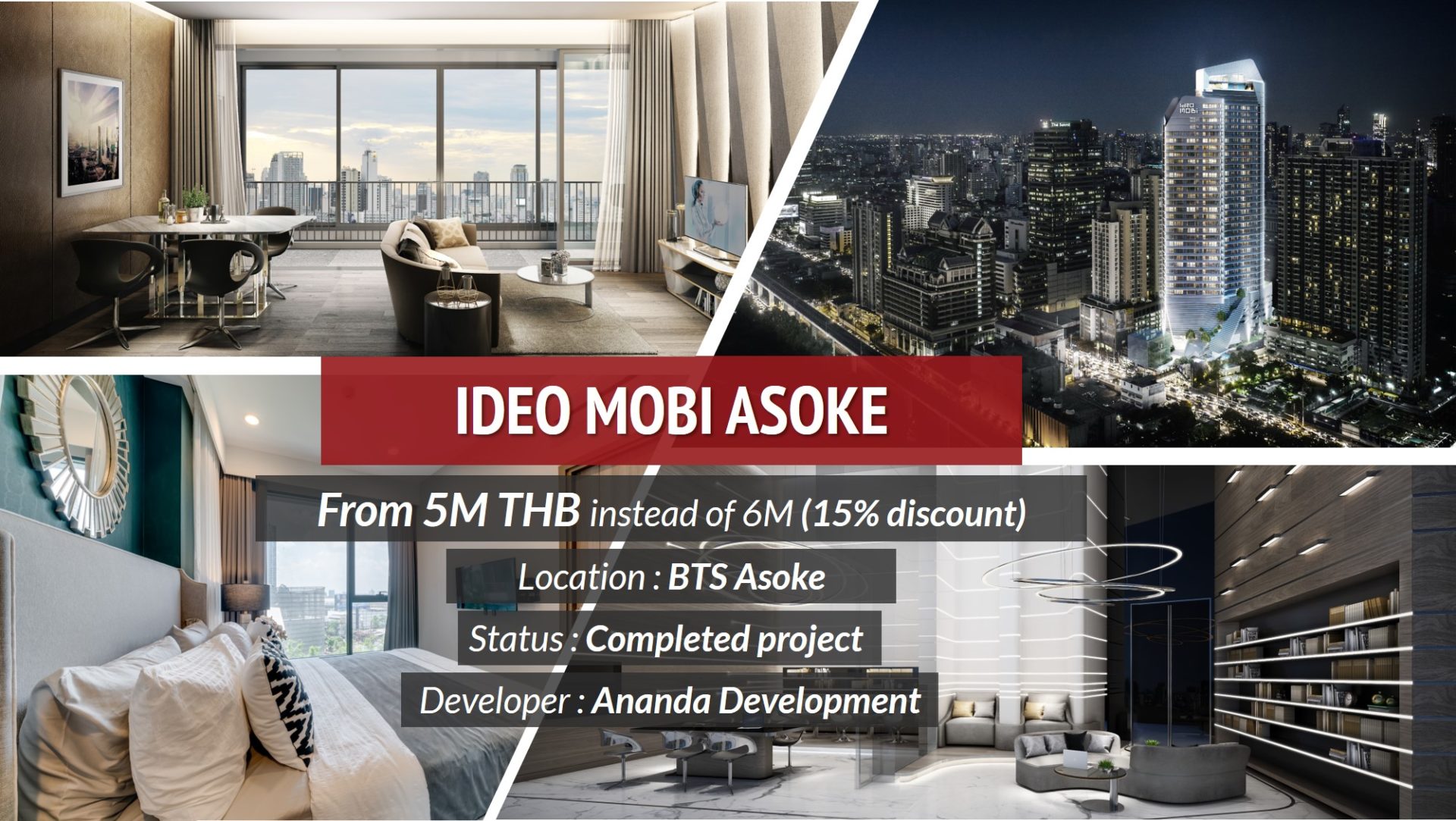 IDEO Mobi Asoke
From 5 000 000 THB (-15%)
This project is 3 min walk from MRT Petchaburi Station and Makkasan Airport Link. It is ideally located between the 2 CBDs of Rama 9 and Asoke, with cheaper prices than what you could find in the center of those 2 areas.
The project BONUSes
Attractive for lessees thanks to the closeness to the "Singha Complex" offices
Ideal pied-à-terre to commute inside Bangkok thanks to the central position between 2 CBDs, with MRT and BTS
Close to the coming "Makkasan Park"
This location is particularly interesting, as it is easy to commute in both major business districts, without having to pay too much.
Ideo Mobi is a nice choice for people looking for a rental investment. Lessees are numerous, between young independents and free-lancers, managers and even students of the neighboring international schools and universities.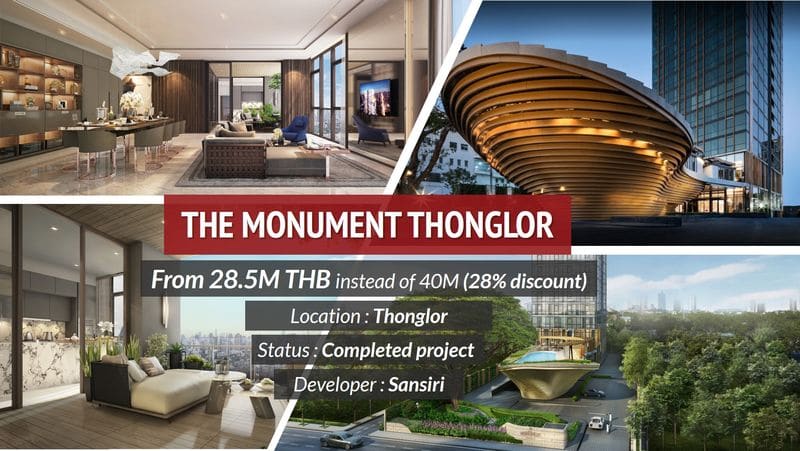 The Monument Thonglor
From 28 500 000 THB (-28%)
This luxury, high end project is made by Sansiri, of Bangkok's biggest developers. And the discount is exceptional : from -14% to -28%, avaiable on only 4 units.
The project BONUSes
Located in Sukhumvit's high end residential district
Only Penthouses, minimum of 125 sqm with incredible view on the city center
Highly exclusive project : only 4 apartments per 1 floor
Each apartment is served by 2 privative lifts
Thonglor district in Bangkok is very much like Soho in New York with its community of stars, artists and high ranking executives. The Monument is highly appreciated for its totally exclusive setting.
Be it for renting or living, this top high end project opens its doors to investors seeking an absolute and unique luxury.
Why Sukhumvit ?
This eastern district of Bangkok hosts a large number of professionals, corporate offices, international schools and shopping centers. Asoke in particular is the heart of Sukhumvit and one of the main CBDs of the capital. But Sukhumvit does not stop there, as the new areas extending from the East will form a new industrial, technology and web-oriented CBD. Indeed, Bearing, Udom Suk and Bangna are included in the government development objectives of "Thailand 4.0" and the "Eastern Economic Corridor". Offices, schools, residences and other infrastructures are developing in this area. Families, young professionals, "millennials" find residences here that are both affordable, practical and with great opportunities for development. The projects presented have an attractive price per sqm; price which will be valued by the development of the area in the medium term.
Contact Bastien, our Bangkok representant, to know more about these "hot deals" projects !